We are continuing on our 30 days of prayer journaling journey.  If you're just joining us today is Day 7 in a series of 30 days of prayer journaling prompts.  You can find Day 1 here and a summary of all 30 days will be here as we go along.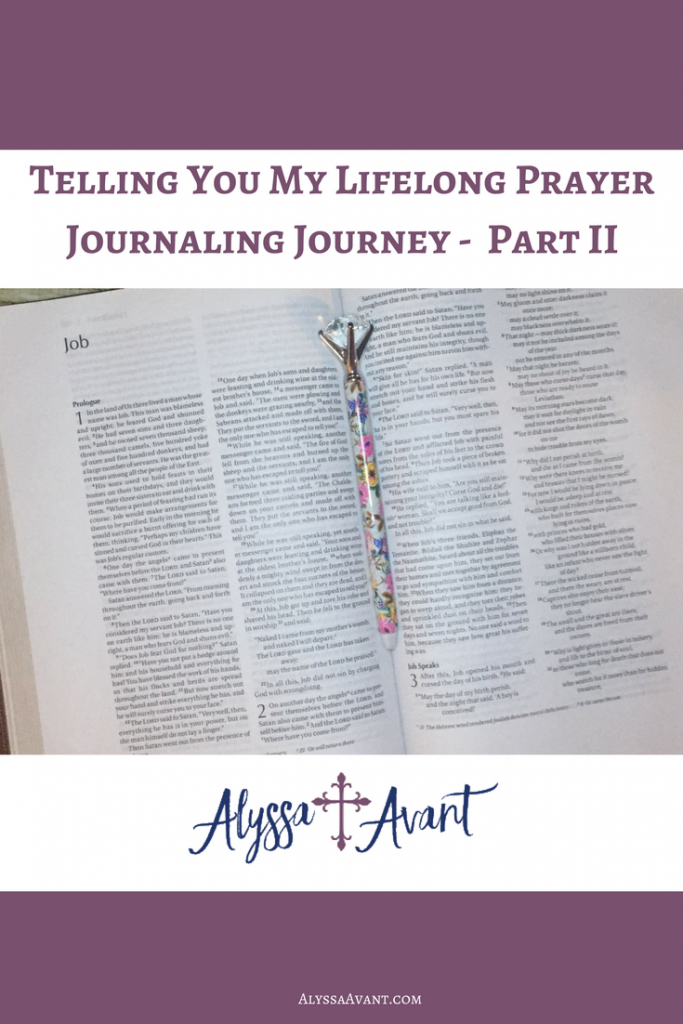 My Prayer Journaling Journey
Now let's continue with my prayer journaling story. I hope you're enjoying it.
At that time, I willingly and knowingly went against the wishes of my parents and at the urgings of an incredibly influential, extremely negative older guy entered into a relationship with him. This relationship led to a string of lies fed to my parents by not only me but my friends as I attempted to cover up the harsh reality that had become my life. After months of late-night phone calls that I was never supposed to make, visits from the guy without supervision that were never supposed to occur and a near life-changing event that was only stopped by sheer panic, my parents finally discovered what was happening. Thanks to Godly parents, I was blessed to end that dangerous defiance right there, nipping my rebelliousness in the bud. Their loving influence and hard discipline steered me back onto the proper path.
Prior to this, I had been writing in a journal of sorts, yet the entries were full of stories detailing my rebellious, dangerous activities. These hand-written recordings of my escapades are actually what led my parents to discover my rebellious nature and call my hand on it.
Therefore, when my mom gave me a new journal that Christmas I was hesitant to even use it. Yet then I remembered learning about keeping a prayer journal as opposed to a typical diary-type journal and I began to feel God calling me to write in this new way. This prayer journal concept involved writing down feelings, thoughts, dreams and written prayers that you would share with the Lord, much like writing a letter to Him. I began to get excited about this idea, as I had already poured out my heart to God at the altar at church one Sunday. I walked the aisle and confessed my backslidden, rebellious choices, ways and rebellion to my pastor as a way of confessing before men what I had done. Writing prayers instead of accounts of my daily habits was not only just an intriguing concept to me but one I felt would prove to be much a more worthwhile and safe idea.
I will continue this story tomorrow so be sure to come back . . .  If you missed the first part of this story you can find part one here.
Today's Prayer Journaling Prompt:  Record the things that inspire you the most. Maybe you have just met someone inspirational lately. What makes them inspiring to you?