We are continuing on our 30 days of prayer journaling journey.  If you're just joining us today is Day 10 in a series of 30 days of prayer journaling prompts.  You can find Day 1 here and a summary of all 30 days will be here as we go along.
I have been sharing my prayer journaling story for the past several days. . . that part of this series started on Day 6.  If you want to read my prayer journaling story from the beginning.  There are also tips on Day 5 when I share my process of prayer journaling.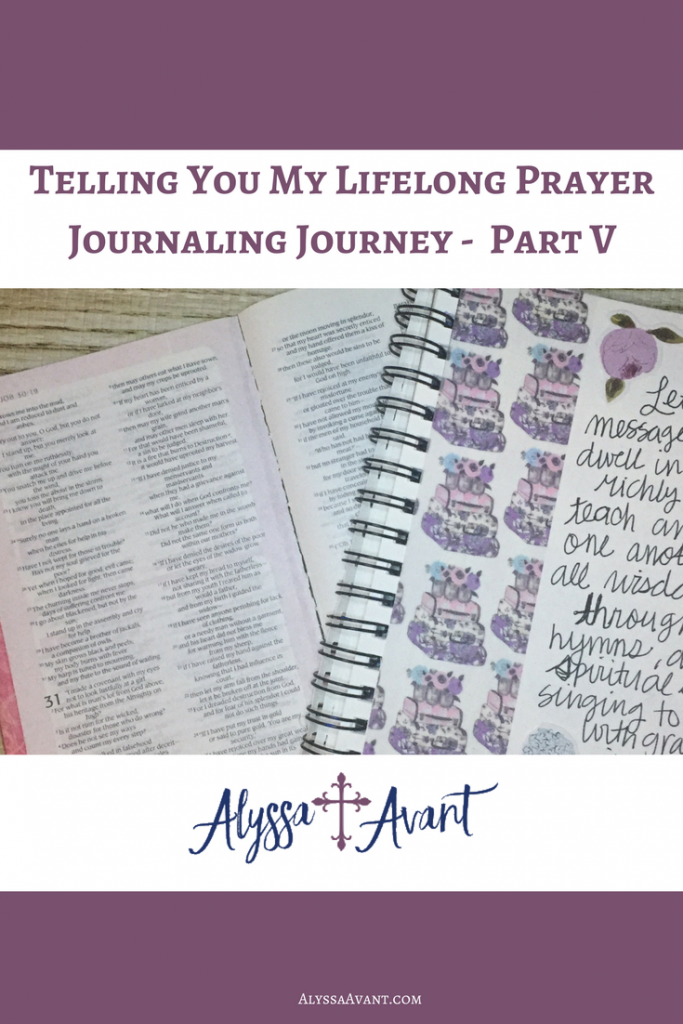 Now here's more of my prayer journaling story and how I look back on those days even now – – –
It is inspiring to read prayers written during my teen years and realize they were answered even if it was years later. It is even more encouraging to see how God put together the pieces, helping me to yearn for His plan, rather than seeking my own desires. My own plans began to change as I continually poured out my heart to Him on the pages of a journal. At times my cries were quiet, while other times they were passionately desperate. Then there were times when I would praise Him rather than putting out a list of requests, while some entries read more like a wish list than a conversation with my Savior.
If you were to read the pages of my journals you would see the peaks and valleys of my relationship with my Lord. You would witness the growth and maturation of my faith. I remain in awe of how far I've come and how much different I am now than I was at the young, naive age of 15. Like most teens, I thought I had it all figured out. But now, like most adults, I know that I have not. I am thankful that I listened to my youth minister and gave God the time He deserved in my life.
I will continue this story tomorrow so be sure to come back…tomorrow is my last day to share my story.  Would you like to share what you've learned so far from your prayer journaling experiences I'd love for you to leave me a comment below:
Today's Prayer Journaling Prompt:  What would you like to change about your life? Journal about these things and then create aplan to make it happen.