Today we're going to talk about when God speaks.  How do you hear God when he speaks to you?  What are some signs that God is speaking to you?  This is something a prayer journal can help you to track.
Today I have encountered an issue that has arisen in my life several times over the past few years.  When something like this happens, I begin to ask myself what God is saying.  In order to do this I: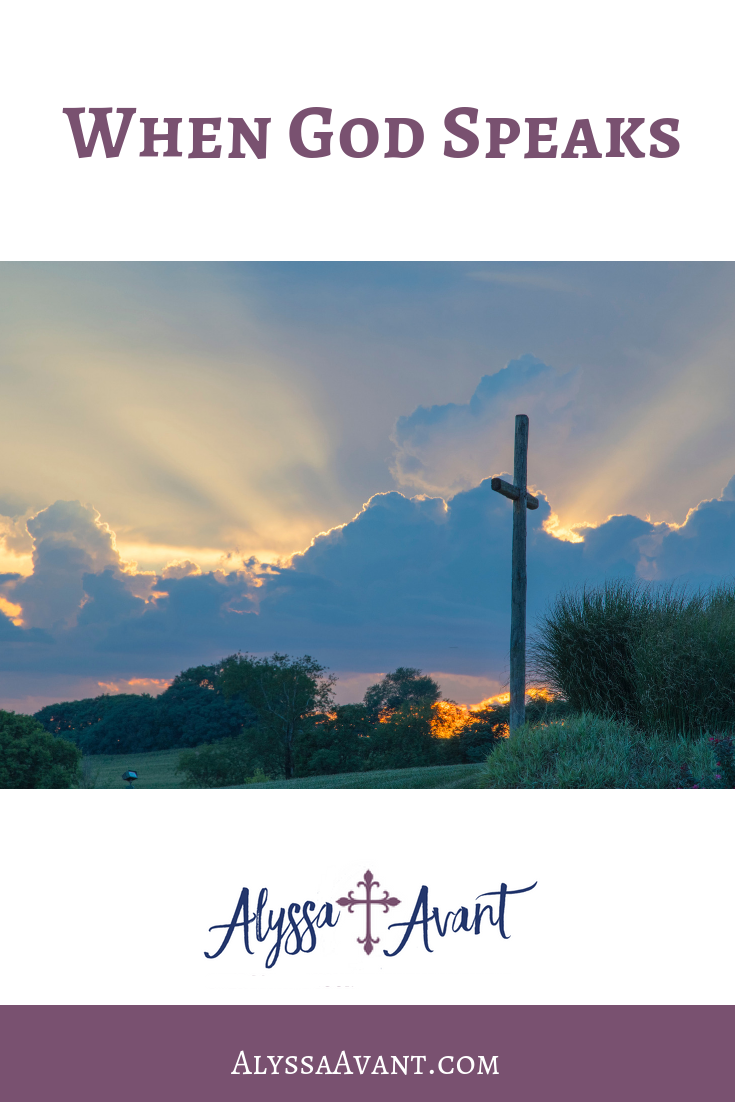 When God Speaks
Pray.  I literally ask God, "What are you doing?"  or "What does this mean?"  After all his Word says, "You will seek me and find me when you seek me with all your heart."  Jeremiah 29: 13 NIV
Consider the circumstances.  Have you been in this situation before?  What did God do before? How did he move in your life?  You can learn from your previous experiences.  God never wastes a moment in your life. He will often confirm things through your circumstances.  Always remember that God has a plan for your life.
Jeremiah 29:11, after all, says,  "For I know the plans I have for you," declares the Lord, "plans to prosper you and not to harm you, plans to give you hope and a future."
Look to His Word.  God will often confirm your own thoughts or desires through his Word.  It is a road map to us in our lives.  God will never contradict Himself. He will never speak to us through our circumstances in a way that will contradict His written word.
Here are some additional principles to consider in discerning if it is indeed God's voice you are hearing:
Compare what you hear with the Bible: If what you are hearing aligns with what the Bible says, it is more likely to be God's voice. God's Word is the ultimate authority and serves as a guide to discern what is of God and what is not.
Seek counsel from mature believers: It can be helpful to share what you believe you've heard with mature believers in your life who have a strong relationship with God. They can help you evaluate the message and provide you with godly wisdom and insight.
Check the fruit: If what you are hearing results in peace, love, joy, patience, kindness, goodness, faithfulness, gentleness, and self-control, it is more likely to be from God. If it results in fear, doubt, confusion, anger, or division, it is less likely to be from God.

Remember the fruit of the spirit from Galatians 5:22, "But the Holy Spirit produces this kind of fruit in our lives: love, joy, peace, patience, kindness, goodness, faithfulness, gentleness, and self-control."

Pay attention to the circumstances: As I mentioned already, sometimes God speaks to us through circumstances. If what you are hearing is confirmed by events happening around you, it is more likely to be from God.
Test the spirits: In 1 John 4:1, the apostle John instructs us to "test the spirits to see whether they are from God." This means we should ask God to reveal to us the source of what we are hearing, and be open to the possibility that it may not be from Him.
It's important to remember that God can speak to us in a variety of ways, including through Scripture, prayer, circumstances, and the counsel of others. The most important thing is to be open to hearing from Him and to be willing to obey whatever He reveals to us.
I know that in these times of uncertainty when I am trying to determine what it is GOD is doing I feel afraid, but I know that God has a plan and you can trust in that too.