Have you ever dealt with negative or worrisome thoughts that you just can't seem to shake?
Have you ever felt like your heart was racing or your insides were shaking?
It is possible that you might be suffering from anxiety.
I have suffered from anxiety and panic attacks since I was a small child. As a small child, thunderstorms were a source of anxiety for me.  As a teenager and young adult I became anxious when I had to visit a new place or encounter a situation which I had never experienced before, such as a new college campus.  In my adult years, conflict and financial woes have made me the most anxious.
No matter what causes you anxiety, it is important to find ways to help you deal with your anxiety.  Though I have had anxiety and panic attacks over different issues in different seasons in my life, I have always needed to find ways to deal with them.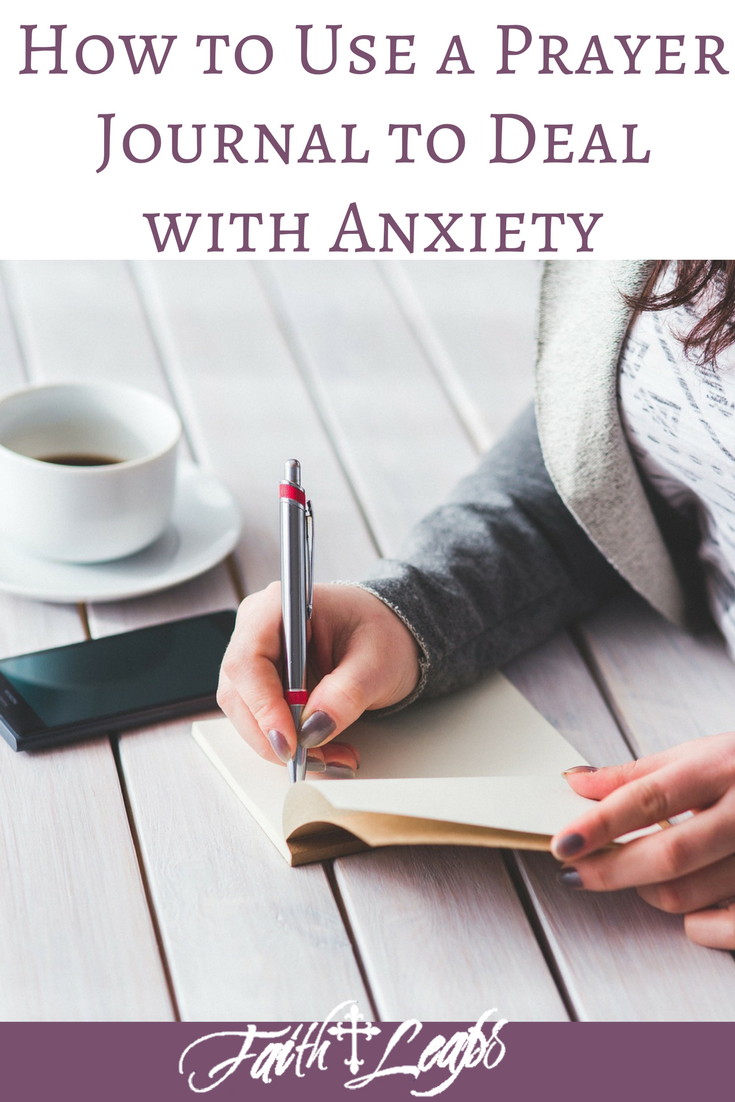 One of the ways I have learned to deal with anxiety over the years is through prayer journaling.  Prayer journaling, the act of physically writing out your thoughts and prayers can help you to:
Focus on your blessings,
Find the silver linings and
See God's hand working in your life.
It can help you to feel safe.  It can help you to stay connected to God, the ultimate physician who will always take care of you.
Prayer Journaling Techniques to Help You Deal with Anxiety
Prayer journaling is easy.  After all, what you are writing is simply your prayers in written form.  There are a couple ways that I written out my prayers – –
Making a list. Journaling your prayers can be as simple as making a list or several lists.  You might choose to write a list of things that you are grateful for, which will help you to focus on your blessings and find the silver linings.  You might also choose to write out a list of things that you are anxious about in order to give those things over to God in prayer.Another possible list to create is a list of other people whom you want to pray for as well.
Free writing – Free writing is writing things out as they come to mind. There doesn't have to be a reason or order to these thoughts.  You record your thoughts, prayers and worries without worrying about grammar or if what you are saying makes sense.  God will understand either way.
Letter form – Another way that I have enjoyed writing out my prayers is to think of them as writing a letter to God. Just like you would write a letter to a friend you share your worries, thoughts and prayers with God through a written conversation.
Prayer journaling can help to lessen the feelings of anxiety and worry by getting the thoughts out of your head and onto paper.  You will find that there is something extremely freeing and relieving about doing so.  You will want to be sure that you also go back and read your prayers from time to time and take time to record where God has answered those prayers.  This is probably the best part of using a prayer journal is the ability to see and record God's answers to your prayers.
Remember, no matter if you choose to make lists, free write, or write a letter to God prayer journaling can help you to overcome anxiety.
I'm linking up at Salt & Light Linkup, #GraceandTruth and #ChasingCommunity.