If you suffer from anxiety on a regular basis, then most likely you are like me and would love a healthy way to help you deal with and calm your anxiety.  I have suffered from anxiety since I was a small child.  Over the years I have found several ways to help calm my anxiety.  Today, I will share with you the top five healthy ways I believe that you can calm your anxiety, from my experience.
 Practice gratitude.  When you chose to focus on the good, as Scripture says in Philippians 4:8, "Finally, brothers, whatever is true, whatever is noble, whatever is right, whatever is pure, whatever is lovely, whatever is admirable if anything is excellent or praiseworthy think about such things." This helps you to become less anxious.  Also, gratitude as Scripture tells us brings forth peace.
Colossians 3:15-17 says, "And let the peace of Christ rule in your hearts, to which indeed you were called in one body. And be thankful. Let the word of Christ dwell in you richly, teaching and admonishing one another in all wisdom, singing psalms and hymns and spiritual songs, with thankfulness in your hearts to God. And whatever you do, in word or deed, do everything in the name of the Lord Jesus, giving thanks to God the Father through him."
2.  Journaling.  Journaling can help one to release the burdens of anxiety.  There is something freeing and therapeutic about getting your anxious thoughts out of your mind and onto paper.
3.  Listening to praise music.  Listening to praise music can assist you in taking your eyes off of your anxiety and putting them on Jesus.  After all, Scripture tells us to "fix our eyes on Jesus, the pioneer, and perfecter of faith."  Hebrews 12:2
When we focus on Jesus our problems seem to fade.
4.  Coloring.  You might think that coloring is silly to do as an adult, but coloring can actually be quite a relaxing activity and these days you can find a wide variety of adult coloring books.  Many of them have scripture verses and motivational quotes to color that can also aid in taking your thoughts off of your anxiety and onto that which is good.
5.  Relaxation Exercises.  As a young child, I saw a psychologist to help me to deal with the anxiety and panic attacks that I was experiencing.  One of the main ways that I was taught to calm my anxiety was through practicing relaxation exercises.  Though I no longer have access to the original cassette tape that I used as a child to lead me through these exercises I have located similar ones on YouTube that I have used and can recommend to you.
The main idea of these exercises is to focus on relaxing each part of your body one at a time.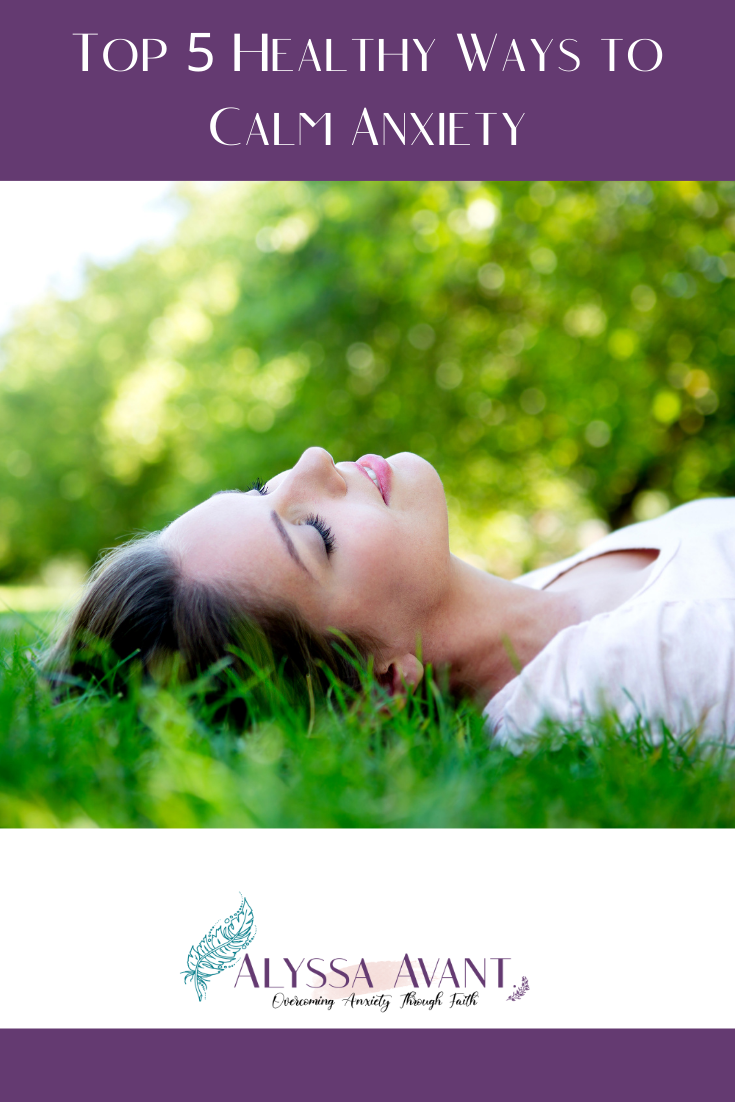 These are the top five healthy ways that I have found over the thirty years I have been experiencing anxiety and panic attacks in my life on a regular basis.  God gives us the ability to overcome anxiety and he allows us to find ways that we can calm our anxiety.
What are some ways that you have chosen to calm the anxiety you may experience in life?